Carol Anne Douglas is an author who has loved Shakespeare since she watched A Midsummer Night's Dream when she was a child. She identifies with the character Nick Bottom because she wants to play every part, which only a writer can do. She is an avid reader of Arthurian and Shakespearean literature. Her previous fantasy novels, Lancelot: Her Story and Lancelot and Guinevere, feature Lancelot as a woman in disguise. When Douglas isn't reading or writing, she spends as much time as she can in the national parks, hiking and watching wildlife. She lives in Washington, D.C.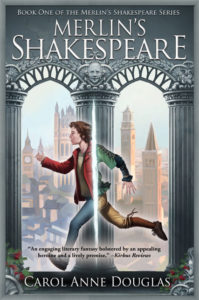 Merlin's Shakespeare and The Mercutio Problem
By Carol Anne Douglas
Genre: Fantasy/Time Travel
Age category: Young Adult
Beth loves Shakespeare's plays, but does she want to risk her life for them?

In Merlin's Shakespeare, the immortal wizard Merlin transports high school actor Beth Owens to Shakespeare's London and the worlds of Shakespeare's characters in search of a missing play about King Arthur. Mercutio guides her and flirts with her, but Richard III threatens her sanity, her friends' lives, and the integrity of Shakespeare's plays.

In Mercutio Problem, Beth Owens faces a new challenge: She needs to bring a Shakespearean character she loves back from the dead. But she has to become a man and risk her life to do it. Richard III still menaces her.
Urban Fantasy Magazine: First off, I love the cover art for Merlin's Shakespeare! How did the design for that come about?
CAROL ANNE DOUGLAS: The cover artist, Gabriella Liv Ericksson, is from Sweden. She did the cover for a friend's book. I liked it, so I asked for her contact information. The miracle of online connections! I described the books and she sent me several drawings. I had the concept for the cover of The Mercutio Problem. She had the concept for the cover of Merlin's Shakespeare.
Urban Fantasy Magazine: Mixing Arthurian legend with Shakespeare is an interesting concept. When did you first come up with the idea?
CAROL ANNE DOUGLAS: I thought of the idea in late 2008, shortly before I started writing the book. I wanted to write a young adult book about a high school girl actor and Shakespeare, and Merlin just naturally appeared. Who else could transport her to Shakespeare's time and the worlds of Shakespeare's characters?
Urban Fantasy Magazine: Which of Shakespeare's plays is your favorite?
CAROL ANNE DOUGLAS: It's very difficult to choose a favorite. My favorite drama is Hamlet. The soliloquies are magnificent. When someone I love was killed in an accident caused by negligence, I was furious and watched every video of Hamlet. It was cathartic. The only one I didn't like was Olivier's. I thought that was too mannered.
Deciding on my favorite comedy is more difficult. I love the women's parts in Twelfth Night and As You Like It. But I'd have to say A Midsummer Night's Dream because I love the scenes with the mechanicals who put on the ridiculous play.
Urban Fantasy Magazine: Do you have a play of Shakespeare's you don't especially like?
CAROL ANNE DOUGLAS: I've never read or watched Titus Andronicus. I don't plan to read or watch it. It sounds too gory.
Urban Fantasy Magazine: Are there any authors you particularly admire?
CAROL ANNE DOUGLAS: The author I most admire is Kamila Shamsie, a Pakistani writer living in England. Her writing is beautiful and her range is stunning. Her subjects include a woman who experiences the bombing of Nagasaki and a young woman who tries to save her brother from the Islamic State. One of my favorite books, Broken Verses, is about a poet whom the government of Pakistan has arrested because he is a leftist.
I also admire Edward P. Jones, author of two excellent books of short stories about African American life in Washington, DC, and The Known World, a novel about an African American man who owns slaves. Jones' writing is magnificent and he is the least sexist contemporary male author I can think of.
Of course I admire J.K. Rowling for the delightful Harry Potter series and for her commitment to sharing her wealth.
Urban Fantasy Magazine: What are some other books about King Arthur you would recommend?
CAROL ANNE DOUGLAS: I recommend a series by Fay Sampson and one by Gillian Bradshaw, both of whom wrote different books from the perspectives of different characters. Their books are well written and moving. I also recommend The Idylls of the Queen by Phyllis Ann Karr, a charming mystery in which Cai aka Kay is the detective.
Urban Fantasy Magazine: Beth meets a whole host of Shakespeare's characters in your story. Which of them would you most want to meet in real life?
CAROL ANNE DOUGLAS: That's a difficult question! Those who are most fun to write about are not necessarily the ones I'd want to meet. I'd have to say Bottom, who is delightfully silly.
Urban Fantasy Magazine: Interesting. And which one would you least want to meet?
CAROL ANNE DOUGLAS: Definitely my Richard III. And yes, I mean Shakespeare's Richard. Someone from the Richard III Society wrote me demanding to know whether I specified that my character is Shakespeare's Richard. Richard is clever and fun to write, but utterly cruel.
Urban Fantasy Magazine: Thanks for the interview. Readers can find more info on [Author's name] and [his/her] book below. There is a giveaway going on, for anyone who's interested. These are the prizes you can win:
– One set of paperback copies of both Merlin's Shakespeare and The Mercutio Problem (US Only)
– Two winners will each win a set of e-copies of both Merlin's Shakespeare and The Mercutio Problem (International)

For a chance to win, enter the rafflecopter below:
a Rafflecopter giveaway


You can find and contact Carol Anne Douglas here:
– Website
– Twitter
– Goodreads
– Amazon

Direct links to Merlin's Shakespeare (Book 1):
– Goodreads
– Amazon
– Barnes & Noble
– Kobo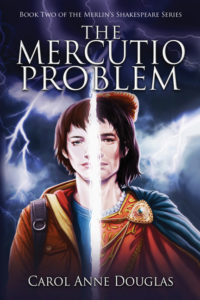 Direct links to The Mercutio Problem (Book 2):
– Goodreads
– Amazon
– Barnes & Noble
– Kobo